Absentee ballots hit the mail today marking the home stretch of the 2012 election season, and term-limited Gov. Brian Schweitzer reminded voters what is at stake in the 2013 Legislative session.
Not one to shy away from the limelight, Schweitzer, a Democrat, continues to thump his chest over last session's record 79 vetoes of Republican bills with a tweet today featuring a photo of "veto chicken."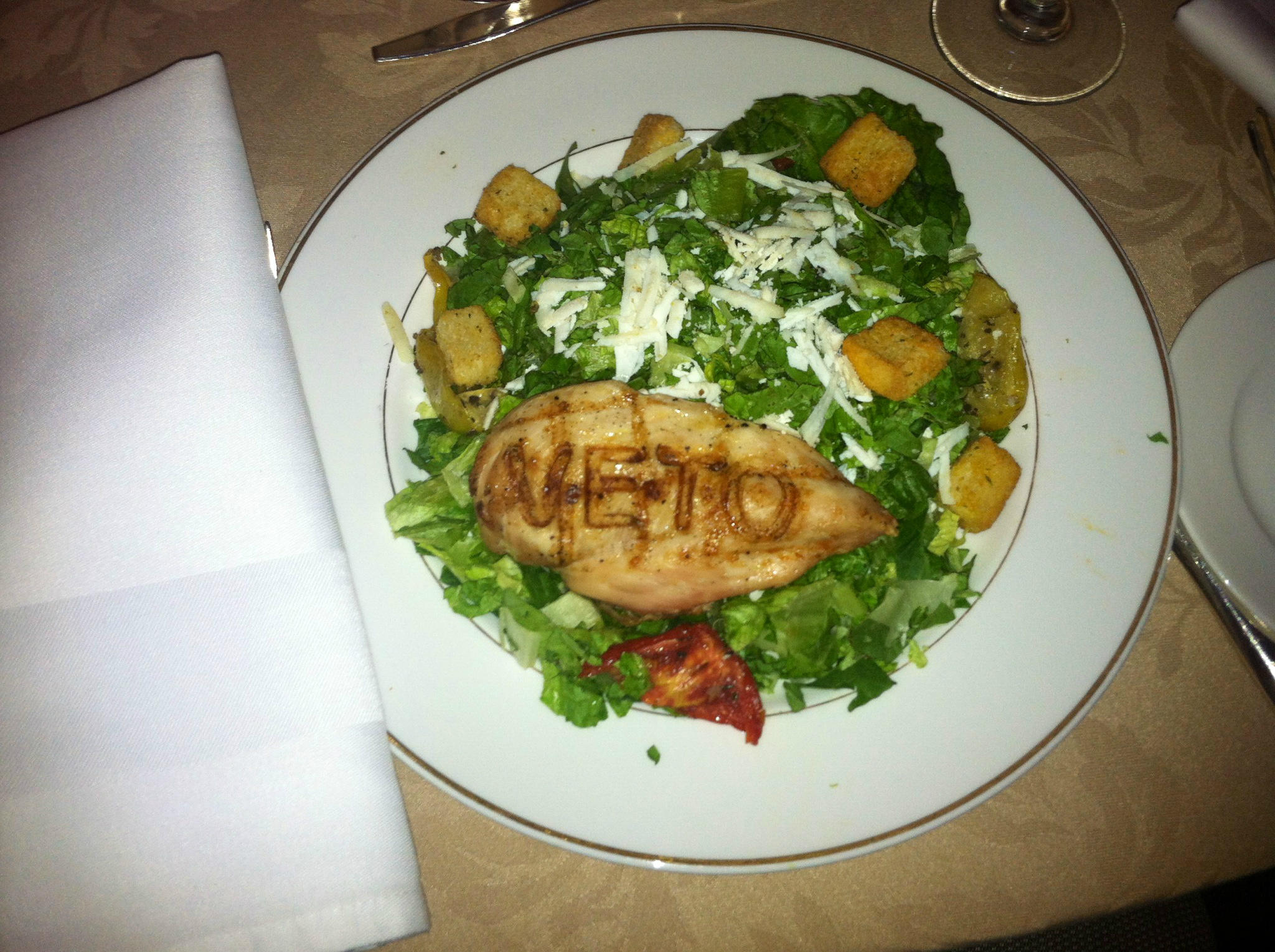 Schweitzer, who has done little to temper speculation that he plans to seek a higher office after his gubernatorial term expires, was was the keynote speaker at NARAL Pro-Choice America's 18th annual "Chicago Power of Choice Luncheon," at the downtown Standard Club. According to Schweitzer's spokeswoman, that's where the "Veto Chicken" was served.
Schweitzer has built a national following among some members of his party who admire his no-holds-barred approach to taking on Republicans in the Capitol. From calling the GOP-controlled Legislature "bat crap crazy" or using a red-hot branding iron to "veto" Republican bills in 2011,  Schweitzer has never backed down from a battle with his Republican rivals.
With Republicans looking to hold solid majorities in the next Legislative session, many of the same bills Schweitzer vetoed in 2011 will no-doubt land on the next governor's desk in 2013.
Democratic Attorney General Steve Bullock has already said he would veto any right-to-work bill that crosses his desk. Bullock has also invoked Schweitzer's "bat crap crazy" remark, saying any bills to allow spear hunting, or calls for secession from the union or or measures aimed at imposing a gold standard in the state will likely meet his veto pen. However, Bullock recently told students at Great Falls High that since he's a lawyer he would probably use a fountain pen, rather than a branding iron, to do the deed.
Meanwhile, Rick Hill, a Republican, has said he would allow some of the bills that Schweitzer vetoed to become law. Hill said he supports right-to-work legislation and at a debate in Helena the former Montana congressman said he supports the ballot measure that would change Montana law to require women under 18 to get parental consent before having an abortion, a bill Schweitzer vetoed in 2011.
If the measure fails at the ballot box come November, chances are that proposal will still become law if Hill is elected governor.
Schweitzer's "veto chicken" tweet, as odd as it was, serves as a reminder that the next governor will probably see many of the same bills he vetoed in 2011.  Some voters will no-doubt have that in mind when they fill out their ballots this fall.